Industrial Press Sales Associate and company representative extraordinaire Jana Rahrig attended the 2023 SkillsUSA National Leadership and Skills Conference, held from June 19-23 in Atlanta, Georgia. The largest national gathering of America's future skilled workforce, this annual event brings together thousands of students, instructors, business partners, and administrators to explore, expand, and celebrate the accomplishments of those preparing for careers in trade, technical, and skilled service occupations.
A nonprofit partnership, serving more than 300,000 students and instructors annually, SkillsUSA works with middle school, high school, college, and other post-secondary school students preparing for careers in trade, technical, and skilled service occupations, offering opportunities for learning and growth.
Among its other collaborative efforts, SkillsUSA encourages students through career competitions. Students can compete at local and state levels, and state winners go on to the national championships. In the NIMS competitions, these successful students go head-to-head to determine who is the most skilled. As usual, this year's Skills USA event participants were aptly applauded for their impressive efforts, and winners were presented with copies of the Machinery's Handbook, 31st Edition. Congratulations to all involved in this landmark event!
Top Left: Joe Zofchak, Customer Development/Academic Program Manager of Zeiss, and a second-year Zeiss intern both visited with IP's Jana Rahrig at the Volunteer Dinner held on the 21st. In the context of some intriguing discussions, Joe provided a welcome introduction to a machining instructor at a community college located near Industrial Press, furthering our valuable conversations with leaders of tomorrow's workforce.
Bottom Left: Christian Shinners, Academic Program Specialist with Zeiss also enjoyed talking shop with Jana at the Volunteer Dinner. This was Christian's second year acting as a SkillsUSA judge for the tool and dye competition.
Left: Briar Dacier, Instructor at Machine Technology, William M. Davies, Jr Career & Technical High School, in Lincoln, RI, proudly presents his department's winner in the machining competition.
Right: Mark Williams, Welding & PM&M Instructor at Weisner Family Center for Career Development, part of the West Aurora School District #129, in Aurora, IL, and his team's winning machining competitor proudly pose.
Left: Jon Minyard, Tool & Dye Instructor, MTT-CNC Department Head at Wallace State Community College, in Hanceville, IL, stands alongside his school's awesome machining competition team members.
Here are two more successful SkillsUSA participants and winners in the machining division.
Once again, congratulations all around for another great SkillsUSA event!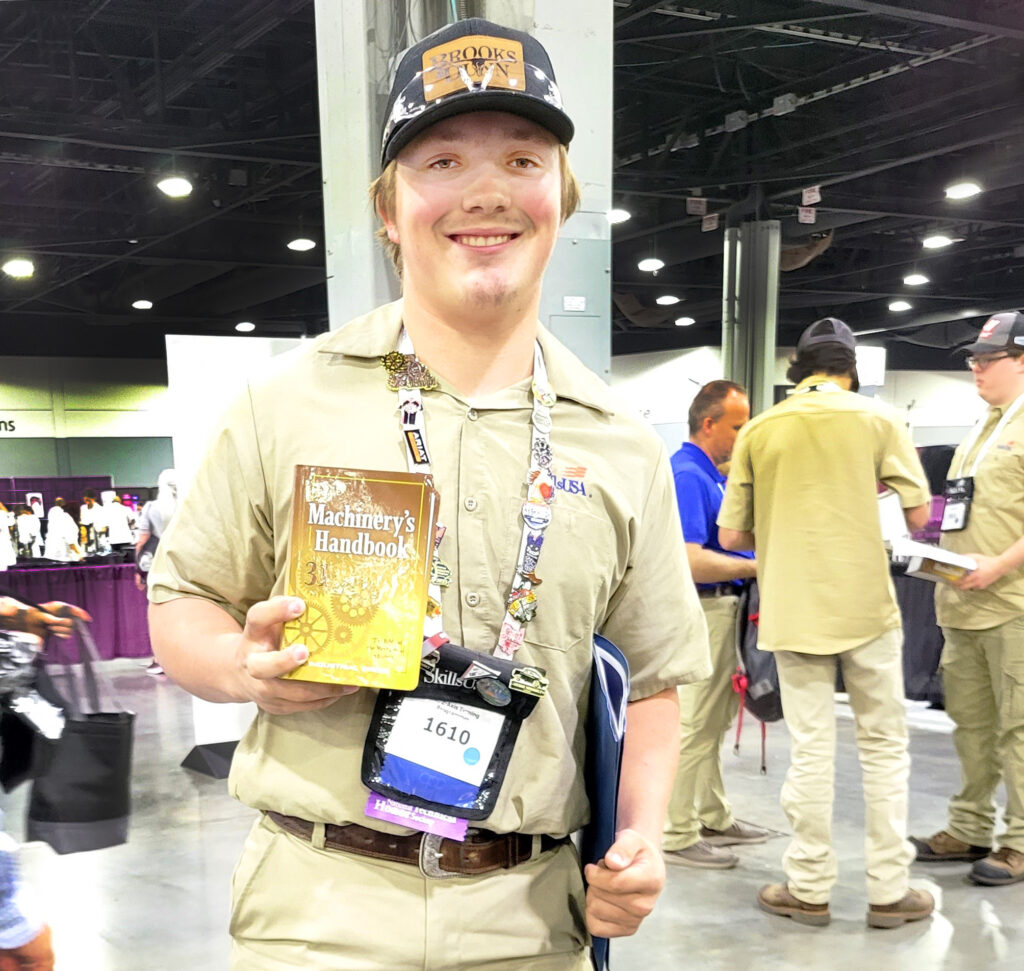 Left: This successful student at Atlantic Technical College & Technical High School, Coconut Creek, FL, picked machining as her 12th grade technical program. She enjoyed participating in the Job Demo Vernier competition at SkillsUSA and plans to study engineering in college next year.
Just one more example of how quality, technical educational programs, working in conjunction with SkillsUSA, supported by definitive reference materials such as the Machinery's Handbook, all work together to open doors to a promising career path ahead!